I'm interested in how technology affects the social world -- how it changes the way we communicate with and make sense of other people. I explore these questions as a theorist, a designer, and as an artist.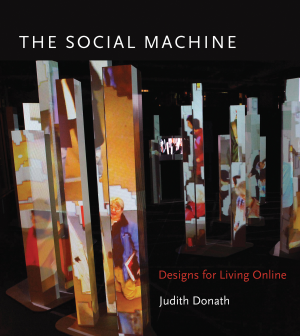 My recent book The Social Machine: Designs for Living Online (MIT Press, 2014) is about identity and social interaction online; it's a guide for understanding how interfaces influence online culture -- and for designing radically new, vibrant and legible experiences.
"For anyone with interest in this field, either as a technology designer or just as someone who loves beautiful technology,this is destined to become the definitive text. It is eloquent, well organized, and thorough." - Science
"Donath makes a compelling case that... issues of privacy, surveillance, healthy group dynamics and the health of the larger commons are also design issues. That she presents these issue in their ethical complexity is a testament to her concern and hope for design strategies that pay attention to all the implications of networked life." - Leonardo

Work-in-progress
Currently, I'm working on a book about how the technology is disrupting the balance between honesty and deception in everyday life..
Although we tend to think of communication as a cooperative endeavor, much communication is subtly or overtly adversarial: one party strives to make an advantageous impression while the other attempts to assess actual abilities and intentions. This competition between honesty and deception creates an arms race in communication - a race which has shaped the evolution of all creatures and profoundly influences the world we live in.
Most of the time, there is a functional balance between honesty and deception
Other writing, other media
I've written papers and articles about many topics relating to the internet and society, including privacy, reputation, artificial pets, data portraits, pseudonymity, social visualization, cute robots and anthropomorphized cars.
As for art work and design projects, an organized listing is still to come... in the meanwhile, here are some installations and exhibits. See also the Sociable Media Group's project page, for work my students did when I taught at the Media Lab.